Styling Advice For Beach Sessions From A Hawaii Lifestyle Photographer
Are you wondering, "What to wear for a Hawaii beach session?".  You're not alone! Wardrobe is always one of the first things a client considers after booking their session. Styling is so important when it comes to having pictures that look polished, professional and timeless. It's no wonder that you might stress about what to wear.
Have no fear because I'm sharing tips to help you plan your outfits for your upcoming beach session. It doesn't have to be stressful to find something flattering that you'll love in your photos for a lifetime. You also don't have to dress formal to look and feel your best! Here are my top tips to help you decide what to wear for a Hawaii beach session: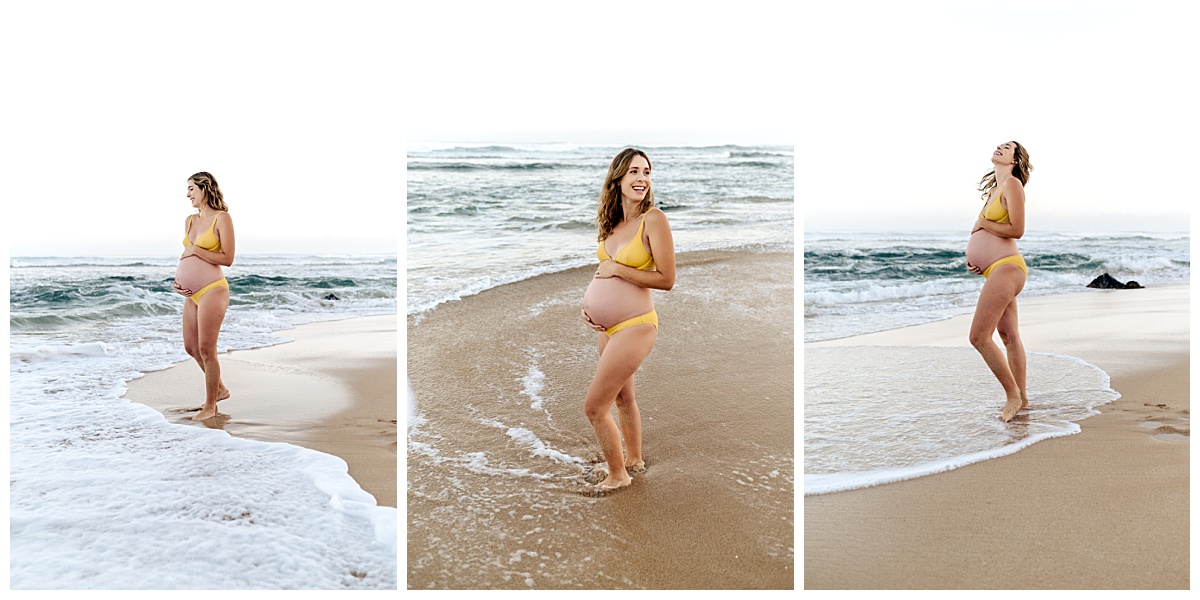 5 Tips For Deciding What to Wear For A Hawaii Beach Session
Feel Free to Keep It Casual
In Hawaii, there is no need to dress formally for your photography session. (Unless you want to!) Hawaii is such a relaxed and natural atmosphere. Your wardrobe should refelct the environment. Don't be afraid to keep it casual and simple. Use breezy, light fabrics that look amazing and feel comfortable to wear in a beach setting. Feel free to go barefoot if desired!
The important thing is to feel like yourself in your photos. Whether you like to keep it casual or dress more formally – stay true to you and your family's personality!
Swimsuits Are An Option
You can keep it really casual by opting to wear your bathing suit or board shorts for your beach session. This is Hawaii, after all! You can feel comfortable for your session and immediately enjoy the beach afterwards. It's a win/win! I recommend choosing swimsuits with flattering patterns. Nothing too busy or overly bright.
Choose Cohesive Color Palettes
When styling multiple outfits for your session it's important to keep the wardrobe cohesive. Everyone shouldn't be "matching" and wearing the same thing. Start by choosing a color palette. You can head over to Pinterest to type in "beach color palettes", "neutral color palettes", "soft color palettes" or whatever your vibe may be for inspiration! Mix the color palette throughout the outfits. Avoid overly bright or neon colors that may distort your beautiful, natural skin tone!
Keep Patterns Simple
You want your Hawaii beach session to be as timeless as possible. Keeping your wardrobe and patterns simple will ensure you love photos for a lifetime! Avoid "characters" on children's clothing. Don't select overly bold patterns that take away from you or the beautiful environment of the location. Simplicity is key!
Bare Bumps Are Perfect For Maternity Sessions
If you are taking your maternity pictures at the beach in Hawaii, I LOVE to photograph bare bumps. The natural beauty of this miracle is perfectly paired with a beach location. Choose an outfit that will allow you to show off that bump! You can opt for a light and flowy maternity dress that will show your bare bump at the beach.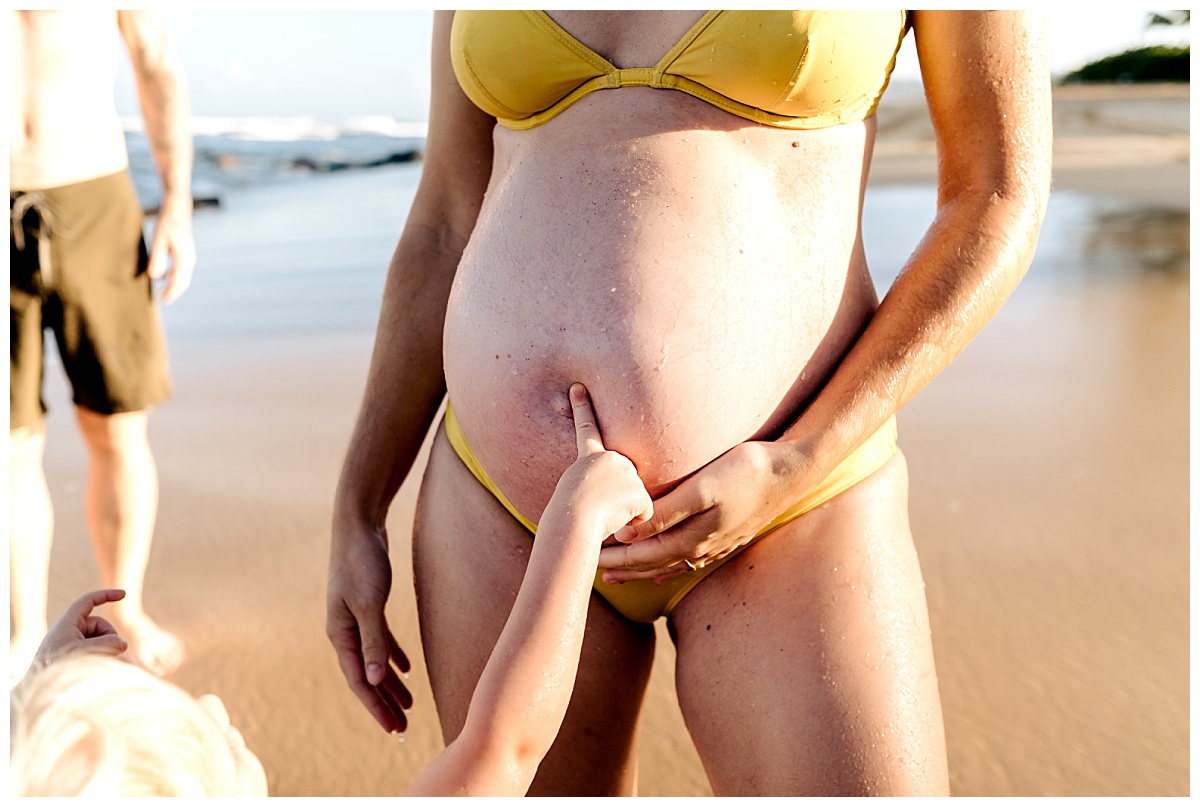 Embrace your natural beauty and that of the Hawaii beach! Don't overthink your wardrobe for your Hawaii beach session. Keep it simple, comfortable and casual and you will love the way you feel during your session! I hope you found these tips helpful and are no longer stressed about deciding what to wear for a Hawaii beach session.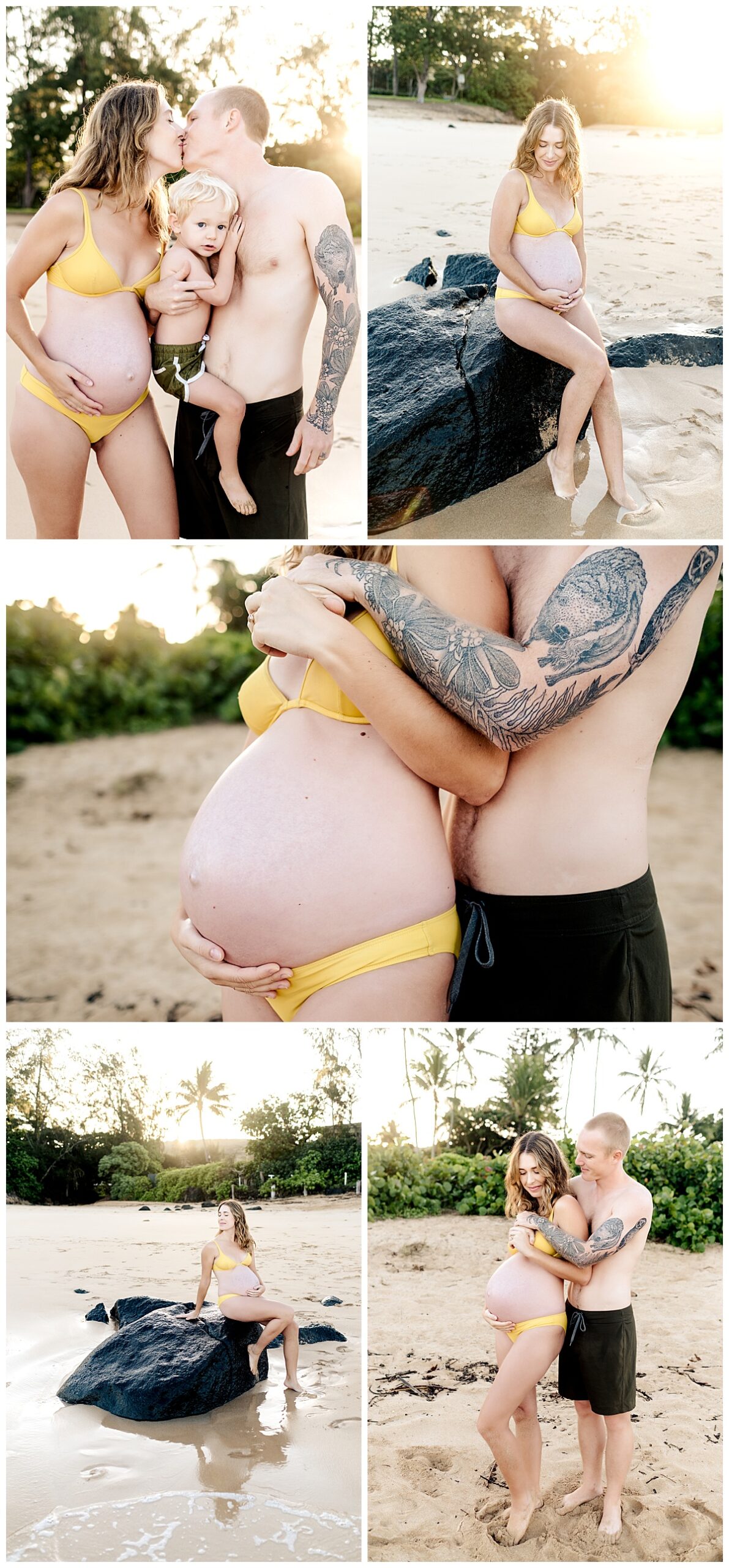 If you felt inspired by this post, you might also like:
5 Tips For What To Wear For Your Underwater Photo Session